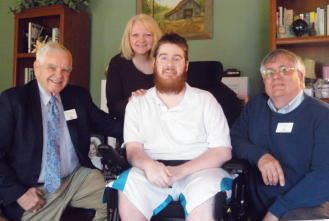 Danny has been dancing all his life. Hard to imagine that at the age of six, Danny was diagnosed with Duchenne Muscular Dystrophy. By the time he was 13-years-old, Danny's mode of transportation was his wheelchair.
Wheelchair or not, he kept on dancing. "It (his muscular dystrophy) wasn't a big deal when I was younger," Danny recalled. "It just slowly progressed over the years. I got use to it and people got use to me." Danny said he was friends with everyone. "There wasn't a reason not to be friends with everyone," he quipped. "I'm just Danny."
Well "Just Danny," a 2006 graduate of Concord High School, graduated from Indiana University South Bend in 2013 with a Psychology degree. On the cold days with snow in the air, he chose not to stay warm under his covers. Not once did he decide he was too tired or just didn't feel like going to class. In fact, Danny rode his wheelchair to the Transpo bus stop every school day, rain or shine, snow or sleet. And it all paid off when he rode across the stage at graduation just last year. "If I can do it, so can anyone else," Danny expressed. "That's what I want people to realize." Don Neely, a volunteer with Center for Hospice Care, was matched with Danny earlier this year. "It's been a neat relationship," noted Neely.
"Danny teaches me how to live. He turned the tables on me. I'm supposed to be here for him, yet he's the one who has ministered to me. Danny is a gift to so many." Over the years, Danny took a liking to Ellen DeGeneres. "I love that she dances with everyone," noted Danny. "When I see her dance, it makes me dance too."
While a trip to see her show didn't pan out, Danny received a swag bag from Ellen, complete with an autographed book, a couple of shirts, a sweatshirt, her renowned boxers and a couple pair of socks. "If she sent me a rock, I would have been happy," laughed Danny. But when he donned the Ellen socks, he couldn't help but dance. And today, in his place of peace, Danny keeps on dancing.