It's just a small, unassuming little building. The Boss' Place offers breakfast staples such as biscuits and gravy to daily specials of a chicken salad croissant sandwich or bluegill dinner, all for a very affordable price. For Richard Zawacki, a Center for Hospice Care (CHC) patient, this little restaurant has been part of his weekly routine for over thirteen years.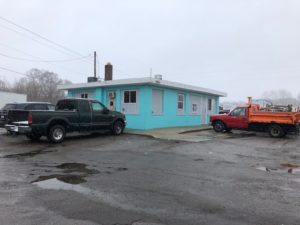 Richard is very social. If you spend more than ten minutes with him, he'll already be cracking jokes. He was a truck driver; he drove an oil truck and a coal truck. He was also a manager for Wagner Fuel. "That's my backup," Richard said, pointing to his daughter, Sue Kline. "She knows more about me than I know." He laughed. She offered details throughout the conversation, and it was evident that her support extended to many areas of his life.
Sue realized how important trips to The Boss' Place were for him, and when the heart doctor told him he could no longer drive, it was disheartening. Richard signed up for care through CHC and Sue decided to ask if there might be some assistance driving him to his favorite spot.
Janet Van De Veire has been a CHC volunteer since 2016. "I like to socialize," she said. "And you can tell he's very social." Kim Morrison, the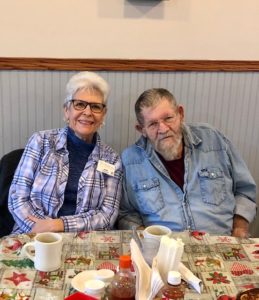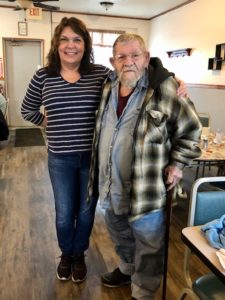 Plymouth volunteer coordinator, paired Richard and Janet together, especially to allow him some time at his restaurant. He was pretty mobile and able to get into and out of the vehicle, which allowed for this very special volunteer mission.
Richard usually gets eggs and bacon, or whatever seems delicious on the menu that day. He made Janet get the gigantic pancake. The two of them got along really well. He also had other friends that he'd talk with, all thanks to The Boss' Place. "I met a lot of people there," Richard said. "There were two of them that would sit at a table. Never talked. One day, I asked one of the guys a question. And since then, he hasn't been able to shut up." Janet recognized that Richard had many friends there. "When we'd go there with him," she shared. "Everyone would say hi and it was good to see him."
This is quality of life. This is part of the support that Center for Hospice Care provides. Richard really gets along with his Aide, Yolanda. "She's just as ornery as he is," Sue said, knowing that the match has made all the difference in his care. Stacy, his nurse, also is able to dish the jokes back at him. "They're perfect for him," Sue continued. While we take care of his physical needs, we also know that feeding his social need is part of the emotional care we provide. There are so many life changes for those dealing with health issues. It is often the simple things of life: the daily routines and the little habits that can foster our best life. So even though it may be a cup of coffee and a quick conversation, these are the moments to look forward to.