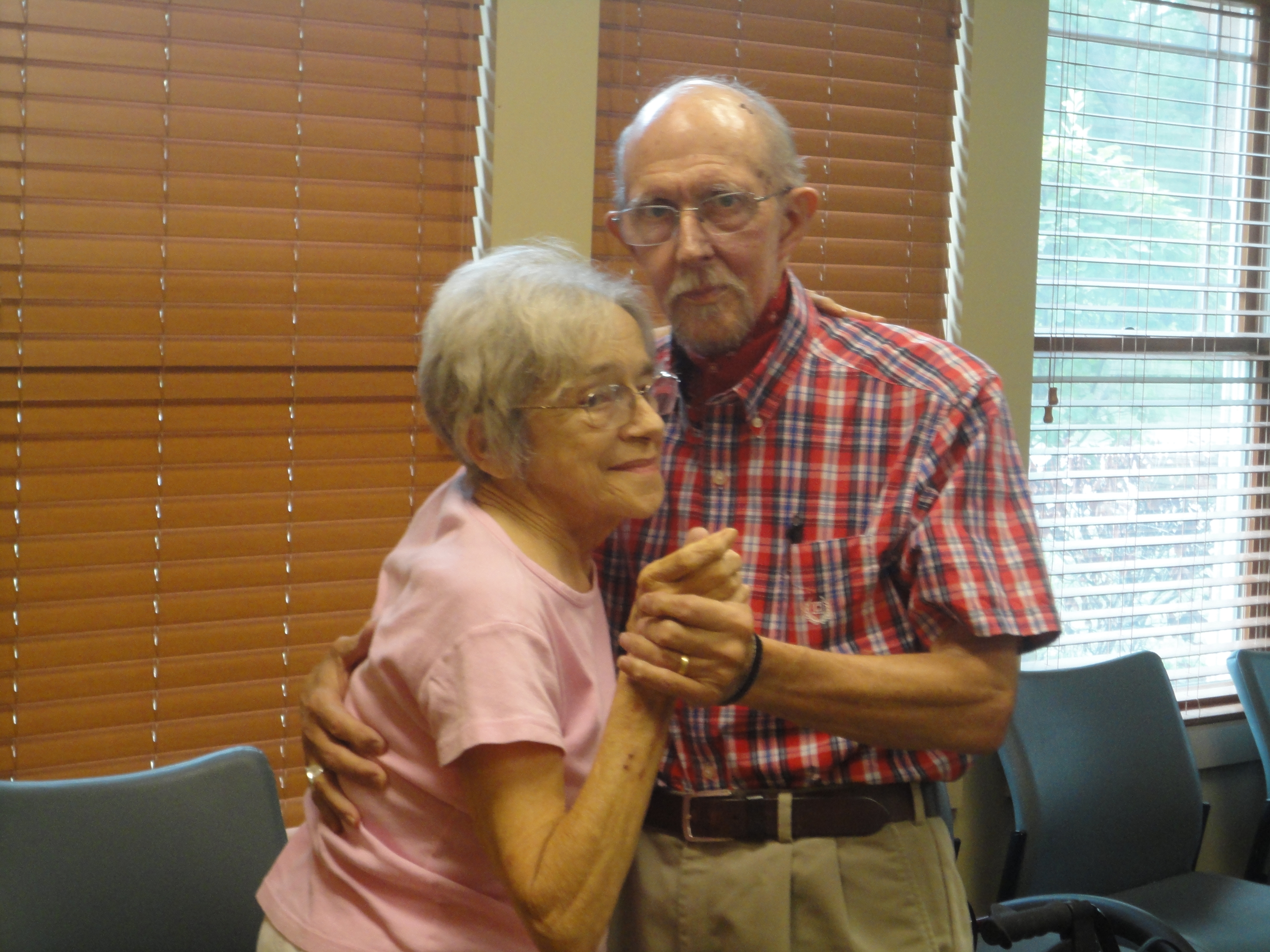 Quality of life isn't necessarily anything huge or fancy.  It's always in the little things: memories, people, and moments.  Sometimes it's as simple as a few roses and a dance partner.
For Joan Simmons, her happiest memories were on the dance floor.  Waltzes made her feel graceful and free.  She owes a "thank you" to the friend who introduced her to this joy.  When Joan was 12 years old, her friend was taking lessons and asked her to join one evening.  From that point forward, Joan fell in love with ballroom dancing.
"There's nothing more beautiful than a waltz," Joan said,  "It's just graceful, it makes you feel good."  And she built a multitude of musical memories on the dance floor.,
Fred Astaire had Ginger Rogers.  Gene Kelly had Rita Hayworth.  John Travolta had Olivia Newton-John.  Joan had Larry.  Larry Milanese became Joan's dance partner and they would twirl around to waltzes and foxtrots.  They quickly became so proficient that they assisted with the ballroom classes at the studio.
Dancing took a halt when Larry was drafted into service and left for Germany.  Life quickly squeezed out the time for dancing.  When he returned from active duty, Joan was engaged and occupied planning her wedding.  Larry and Joan became busy with their own children, spouses, homes and daily duties.  The dance floor remained empty.  But her heart was still drawn to the graceful movements which made her feel carefree.
Center for Hospice Care's mission is to improve the quality of living. 
One way CHC likes to do that is to fulfill a wish for our patients, if possible.  Claire Gisel, a CHC Social Worker, talked with Joan one day about her dreams.  She wanted to dance again.  As she shared her story, Claire realized that her dream to dance again was quite possible.  Joan shared about her dance partner and Claire was quite amazed at the fortunate "coincidence" she realized:  Larry was a CHC Volunteer.
Over 50 years later, in a flower-adorned room at Center for Hospice Care in Elkhart, Larry and Joan twirled once again.  With Dean Martin and Frank Sinatra on the playlist, the afternoon was purely lovely.  The two were able to catch up, dance again and meet a simple dream of a woman whose fondest memories were still swaying in the studio.
"It was fun to dance again," Joan said.  "It was wonderful,."   For just a few minutes it was more than a waltz, a foxtrot or any other precise step.  Joan was able to feel graceful and free.  Someone explained it this way, "Dance isn't just dance.  It's magical.  Something that sets you free."